www.engineering-thailand.com
Written on Modified on
This solution can be used to produce permanent marking at an unrivalled depth. All that is required for operation is a standard electrical supply (between 90 and 230 V). Remarkably quiet in operation, this equipment is notable for its flexibility and ease of use. Whether being used on tubes or a flat surface, all that is needed is to position it on the part, without the need for any other clamping or positioning tools. It is designed for use on pipes of all kinds (oil , mining, gas), lifting equipment (pallet trucks, forklift trucks), works vehicles, boatbuilding, or structural steelwork.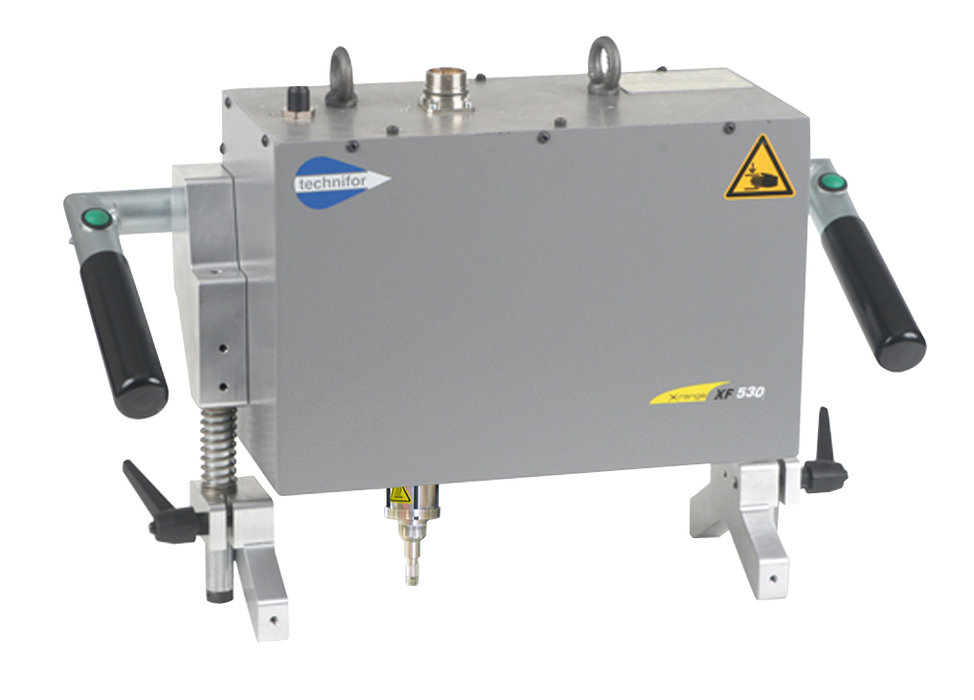 The XF530m has a large marking field measuring 200 x 50 mm, and is equally efficient at marking texts, logos, dates, variables etc.. Marking can be flat, angled or radiating, and various font types are available.

The XF530m is particularly ergonomic in design. Marking trigger buttons are positioned on the machine's grab handles so that it can easily be held in position during the marking process. Its detached control unit is designed to be used anywhere in the world. To date, the interface can operate in more than 20 languages. The integrated control software is intuitive and user-friendly, making it very quick to set up a new marking template. There is also a large backlit screen to provide a quick view of the resultant marking.

Fitted with the latest generation of communication tools, the XF530m has a wide range of connection interfaces (RS232, Ethernet and 8-in/4-out) so that links can be established with the computer network, assembly line PLC etc.. A simple USB memory stick can be used to import and export templates and logos. It has sufficient memory capacity to store more than 1000 marking templates.

Whether used in its portable or permanently installed version, the XF530m is the industrial traceability answer to all your deep marking needs for all kinds of parts.