www.engineering-thailand.com
Written on Modified on
Görlitz, now part of the Bombardier group, was a pioneer of double-deck trains in the 1950s. Many of these trains are still in use in Eastern Europe. That is the case in Rumania, where the national company CFR has launched an ambitious upgrade programme. In this project, Faiveley Transport has installed HVAC and CCTV systems for passenger comfort and security and replaced the braking systems in order to achieve 15% to 20% higher operating speeds. Through this contract, involving 140 carriages, Faiveley Transport is proving its capacity to carry out upgrades necessitating substantial engineering work and is placing itself in a good position for taking on other projects of this type.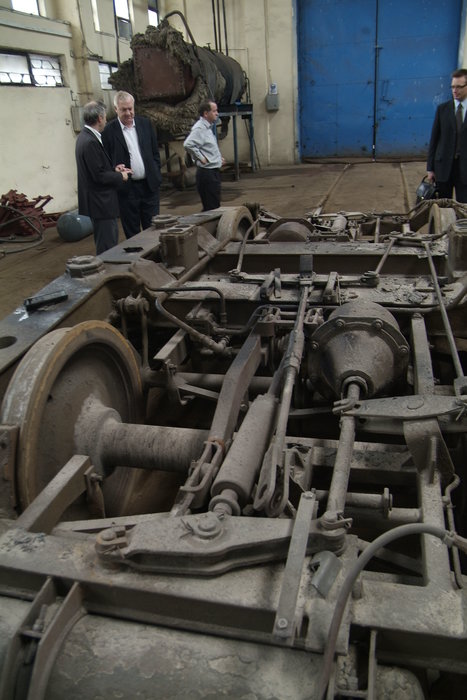 The braking was no doubt the most complex part to manage, as a new and more powerful system had to be installed in place of the existing system. The approach chosen by Faiveley Transport was to transport a bogie to its Swedish research and development centre. This allowed the company to both design and test an appropriate solution. The Faiveley solution, DFCB, is in fact very compact, enabling more braking capacity to be accommodated in the same space. "The principal technical difficulty was in fact to modify the linkage system, which experienced reliability problems", explains Luigi Colmano of Faiveley Transport. An electronic control system also replaced the existing system.

"Overall, the solution has higher performance, greater reliability and is easier to maintain, and also results in a lighter bogie. The saving is one ton per carriage", concludes Luigi Colmano.

Certification testing is under way and will enable an operating speed of 140 km/h, a 20 km/h increase.

Rumanian railways (CFR) and Remar SA have an HVAC system selection approach that is quite conventional in industry but relatively uncommon in the railway sector: it was up to Faiveley to propose a solution. The aim was to let the equipment supplier contribute all its added value to specification aid. CFR also had the objective of using an already proven standard system, which would also be less expensive through economies of scale. The need to meet extremely short deadlines was another factor in the selection of a standard solution.

The decision was thus made to adopt a solution already in use in France on double-deck trains. It was nevertheless modified. First, to cope with wider climate variations, two units have been installed per carriage instead of just one for the application in France. The HVAC units are installed in the roof. Second, some changes have been introduced to take account of operating conditions in Rumania, such as an additional safety device on the electric heater.

François Perez, of Faiveley Transport in Leipzig, explains "The Rumanian railways have quite an old fleet, but their approach is modern. Our partner Remar SA, like the CFR, has excellent railway competencies. Trainset disassembly and reassembly were carried out particularly well."

Omer Madra, manager of MADRA Trade and commercial partner of Faiveley in Rumania, adds "Faiveley has been given a very positive reception, and that is not by chance. Group-level management is involved and the Faiveley engineers know this market very well, as they have very often worked in the field over a long period."

"At the moment, with Remar SA, we have very positive experience which puts us in a position to be able to propose very attractive solutions to other systems running Görlitz double-deck trains. We are thinking of Poland, but also the Czech Republic, Hungary and Bulgaria", concludes Omer Madra.

Caption: Bogie before and after upgrading: the structure is simpler, while the braking system is not only more effective, but also more reliable and easier to maintain.