www.engineering-thailand.com
Written on Modified on
PEPPERL+FUCHS PROCESS AUTOMATION
Low heat dissipation and a small footprint is a must for installation inside the control room cabinet. With its new version of the High-Density Power Hub, Pepperl+Fuchs have increased available power supply current from 360 mA to 500 mA while maintaining space requirements. This highly compact power supply is part of the FieldConnex product range and is able to deliver 500 mA for up to 4 fieldbus segments.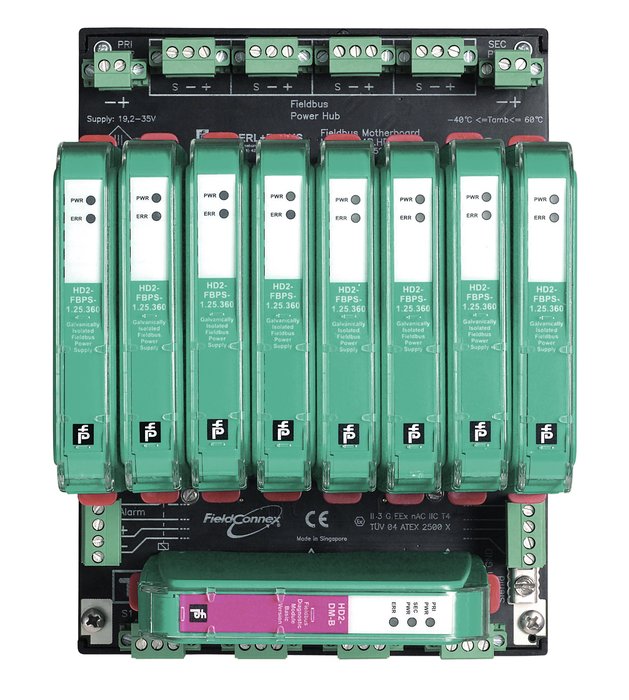 The FieldConnex fieldbus infrastructure from Pepperl+Fuchs consists of interface products, which are designed for fast and easy installation, while offering a number of special characteristics contributing to reliable long-time operation of the complete fieldbus infrastructure. The new 500 mA High-Density Power Hub is a typical example of this product philosophy. It offers extremely compact dimensions and therefore needs only limited space inside the switching cabinet. Especially optimized circuits with low power loss result in superior thermal conditions which allow positioning the board in any direction. In comparison with the previous model, the available power supply current was increased from 360 mA to 500 mA per fieldbus segment, which allows considerably more freedom in the selection of field devices and their number connected to one segment.

The 500 mA High-Density Power Hub is a FieldConnex system component supplying the High-Power Trunk concept of Pepperl+Fuchs. This design concept allows highly efficient energy supply to a large number of field devices inside explosion hazardous areas, while allowing maximum cable lengths. At each spur junction, field barriers or segment protectors take care of militating the maximum current, in order to allow safe zone 1/Div. 1 operation of field devices, which can be connected, disconnected and serviced during normal system operation.

The High-Density Power Hub is compatible with all host systems. The basic motherboard supports up to 8 power supply modules, which allows the connection of up to 4 FOUNDATION Fieldbus H1 segments. Passive power conditioning takes care of maximum reliability. Integrated fieldbus termination allows the setup of a highly available system configuration, while plug-in terminals with retaining screws take care of secure connections which are resistant against vibrations and prevent any unintentional disconnection.

As an optional feature, an Advanced Diagnostic Module can be attached to the power hub to provide continuous monitoring and diagnosis of the fieldbus physical layer. In connection with the Advanced Diagnostic Manager software, this allows a full view of the complete fieldbus physical layer right at the control room, which means that the complete fieldbus infrastructure becomes fully transparent all the way to each individual field device.