www.engineering-thailand.com
Written on Modified on
A few months after the launch of its first industrial class IEEE 802.11n RadioLinx® modules, ProSoft Technology is enlarging its most recent family of industrial wireless solutions with a single-radio IP67 version.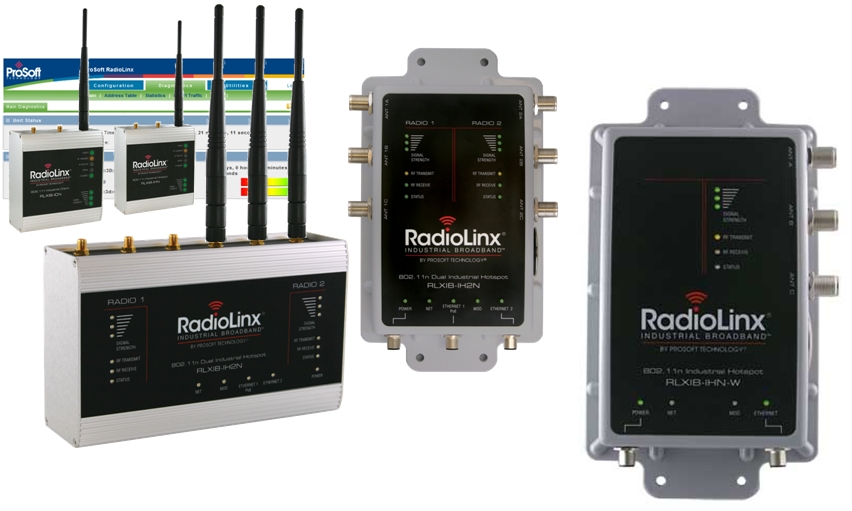 ProSoft Technology is pleased to announce an IP67 single-radio model (RLXIB-IHN-W) to increase its family of industrial class 802.11n RadioLinx Wireless solutions. The new radio comes in addition to the existing two "single-radio" versions (an Industrial Hotspot™, and an industrial client), and two "dual-radio" versions (one Industrial Hotspot with IP20 - standard - casing, and one with an IP67 - watertight - protection).

This weatherproof radio has an IP67 protection rating. This protection makes it dust-tight ("6" = no ingress of any kind of solid, including dust) and water-tight ("7" = no ingress of water in harmful quantity when the enclosure is immersed in water up to 1 m of submersion). Compared to its existing "dual-radio" predecessor, this new "single-radio" industrial class 802.11n solution is a cost effective choice which allows users to benefit from ProSoft Technology's solutions to address applications where IP67 protection is needed and the "dual-radio" option is not necessary.

As a reminder, the new industrial class 802.11n family provides excellent performances to high-capacity networks. They offer high-reliability networking option to applications that are traditionally difficult to solve with wireless solutions.

This family of RadioLinx modules implements the latest 802.11 technology. In short, while Industrial class 802.11a/b/g solutions are already suitable for a wide variety of manufacturing and production applications, industrial class 802.11n radios ease implementation of wireless network for critical cases (they offer the wireless option to a wider range of applications).

The RadioLinx 802.11n family eases transport of demanding industrial protocols (supports the "reliable I/O message delivery" functionality). VLAN (Virtual Local-Area-Network) support allows network traffic segmentation (one connection for the automation control application and another connection for programming or maintenance, for example). The MIMO technology (Multiple Input, Multiple Output) is used with up to three antennas connected to each radio; it benefits from multipath due to reflections (typically on metal parts on the plant-floor) to enable high-speed data rates (up to 300 Mbps) and advanced performance in industrial environments. Quality of Service (QoS) for data prioritization is supported for background applications.

Industrial class 802.11n RadioLinx operate within extended temperature range (-40 to +75 C) and offer hazardous location ratings (ATEX Zone 2 Category 3). Other industrial specifications include: high vibration/shock resistance, DIN-rail mounting, Power over Ethernet and simultaneous bridge / repeater / Industrial Hotspot mode. As other 802.11 RadioLinx solutions from ProSoft Technology, the new family of radios supports 802.11i and RADIUS security for centralized management of security policies.

Compatible with existing 802.11 RadioLinx solutions, the industrial class 802.11n radios improve performance for high-bandwidth applications and high packet-rate control applications.
All ProSoft Technology products come with a three year warranty and unlimited technical support for the life of the product.